Shop away with the Shopkins™ 12 Pack! Collect all of the super-cute Shopkins™ characters and you might be lucky enough to find some rare characters too! Includes 12 Shopkins™, 1 shopping basket, 4 shopping bags and a collector's guide. Collect them all! "Once You Shop You Can't Stop!!!"
Twelve-packs are arguably the most common pack to purchase Shopkins in. Every pack includes 10 visible Shopkins and 2 hidden Shopkins, which are usually Ultra-Rare or Special Edition.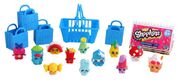 Gallery
Ad blocker interference detected!
Wikia is a free-to-use site that makes money from advertising. We have a modified experience for viewers using ad blockers

Wikia is not accessible if you've made further modifications. Remove the custom ad blocker rule(s) and the page will load as expected.