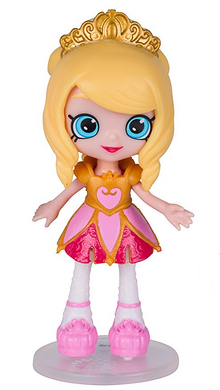 Tiara Sparkles is a princess-themed Lil' Shoppie. She debuted in 2016 at the same time as Kristina Apples and Riana Radio as part of the Kitty Dinner Party mini-set. She comes with a candlestick and a candle.
Bio
Happiness is hosting a dinner party fit for a queen! Designing the perfect place with the finest of taste is what Tiara Sparkles does best. She always makes sure the evening sparkles as bright as her shining Petkin friends.
Appearance
Tiara has blue eyes and yellow hair with ringlets in the back. She is light-skinned and her eyebrows are yellow. She wears a princess-themed dress in golds and pinks. She has a gold tiara on her head and pink shoes. Her lips are a deep pink.
Trivia
The candle can be placed in the candleholder.
Her hair differs from her Happy Places version in her full sized form.
Gallery
Ad blocker interference detected!
Wikia is a free-to-use site that makes money from advertising. We have a modified experience for viewers using ad blockers

Wikia is not accessible if you've made further modifications. Remove the custom ad blocker rule(s) and the page will load as expected.