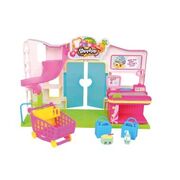 Small Mart is a Shopkins playset released in Season One.
Characters
Description
Go on a Shopkins™ spree and shop till you drop with the Shopkins™ Small Mart! Slide your characters down the delivery chute and then have some fun on the treadmill register at the check out counter! Complete with 2 exclusive characters and a shopping trolley. Collect them all!
Trivia
In the Shopkins Webisodes, Small Mart is a major setting.
The name "Small Mart" is a play on the store, Walmart.

Strangely enough, Shopkins can actually be found at Walmart.
Gallery
Ad blocker interference detected!
Wikia is a free-to-use site that makes money from advertising. We have a modified experience for viewers using ad blockers

Wikia is not accessible if you've made further modifications. Remove the custom ad blocker rule(s) and the page will load as expected.