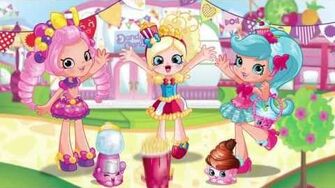 Shoppies is a Shopkins spin-off doll line that was originally released in October 2015. These fun and cool shopkeepers each have a unique personality, and their Shopkins can be unlocked on the Shopkins app with the codes from their VIP cards.
In October 2015, the Season One Shoppies were released. They include Popette, Jessicake, and Bubbleisha.
In December 2015, Two Season Two Shoppies were released, acting as a case refresher of sorts for Season One. They include Peppa-Mint and Donatina. Donatina was released with her playset, Donatina's Donut Delights.
In June 2016 the Season Three Shoppies were released. They include Rainbow Kate, Pam Cake, and Sara Sushi.
In July 2016, a limited edition version of Jessicake was released for the 2016 San Diego Comic Con.
In August 2016, the Season Four Shoppies were released. They include new versions of Bubbleisha and Popette and a new Shoppie, Pineapple Lily. They each come with a playset. Also in August 2016, the Happy Places Lil' Shoppies were released.
In late September 2016, the Season Five Shoppies were released. They consist of new versions of Jessicake, Bubbleisha, Peppa-Mint, and Donatina. They were released as part of the Season Six Chef Club.
In November and December 2016, the Season Six Shoppies were released: A special edition "glitter" Shoppie named Gemma Stone was released on November 25th; and Kirstea, Pirouetta and Lippy Lulu, who came with the playset "Lippy Lulu's Beauty Boutique", were released in December.
In January/February 2017, new Shoppies were released with Season Seven. Four normal shoppies, Polli Polish, Daisy Petals, Lucy Smoothie and Cocolette were released. Five Join the Party Shoppies, Pineapple Lily, Bridie, Pretti Pressie, Rainbow Kate, Tiara Sparkles, Rosie Bloom, and Tippy Teapot with her playset "Tippy's Tea Party," were also released.
In June 2017, five new Shoppies are going to be released for wave one for Season Eight. They include : Jessicake, Macy Macaron, Spaghetti Sue, Peppa-Mint, with her playset "Peppa-Mint's Gelati Scooter", and Zoe Zoom, with her playset "Zoe Zoom's Selfie Stopover". They also include two normal shoppies which include Marsha Mellow and Pippa Melon.
For Season Eight Wave Two, there are five new Shoppies. They include Bubbleisha, Sara Sushi, Coralee, Skyanna with her playset "Skyanna's Shopkins Jet", and four regular Shoppies that include Blossom Apples, Melodine, and two returning Shoppies, Pirouetta and Pretti Pressie, who comes with a recolor of the Party Game Arcade.
For Season Eight Wave Three, the Shoppies that are set to be released are Donatina, Pinkie Cola, and Rosa Pinata. Polli Polish and Lucy Smoothie are also set to be released with their own Super Shopper packs. They are possibly exclusive to a certain store.
In July 2017, a limited edition version of Bubbleisha was released for the San Diego Comic Con in 2017.
Contents
Each Shoppie comes with two exclusive Shopkins, one themed brush, one themed purse, one doll stand, and one V.I.P card. However, some of the recent Shoppies released do not come with purses (The World Vacation Shoppies come with suitcases). Their V.I.P cards have a photo of the Shoppie in the left corner and near the bottom is a Shopkins star. It shows the word "VIP" in big pink bubble letters. The Shopkins logo appears on the top right corner and the bottom has what could possibly be Jenny Penny. It says Shopkins on the bottom portion.
Characters
Season One
Season Two
Season Three
SDCC Exclusive
Season Four
Season Five
Season Six
Season Seven
Season Eight
Wave 1
Wave 2
Wave 3
SDCC Exclusive
Trivia
Gallery
Ad blocker interference detected!
Wikia is a free-to-use site that makes money from advertising. We have a modified experience for viewers using ad blockers

Wikia is not accessible if you've made further modifications. Remove the custom ad blocker rule(s) and the page will load as expected.