Starting in late December 2015,
Shopkins McDonald's toys
were released in McDonald's Happy Meals. They include one blue or pink shopping basket in the style of season three baskets, a turquoise shopping bag in the style of season three bags, and 2 shopkins - one in a blind bag and one visible.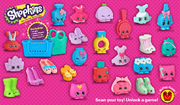 The Shopkins appear to mostly be one solid color, and are much larger than the typical Shopkin. Some of the Shopkins in here appear to belong in the Fashion Spree range or a previous season, but many of them are new characters.
The toys come with a collector's guide and are divided into teams like any ordinary Shopkins season.
Characters
Dresses
Bella La Ball
Tutusweet
Judy Jumper
Purses
Carrie Clutch
Rebecca Bag
Wendy Wristlet
Katie Clasp
Heidi Handbag
Connie Coin Bag
Beauty
Kelsey Compact
Mia Mirror
Rhonda Ring
Penelope Perfume
Shoes
Teenie
Kitty Flats
Flippa Flops
Rare
Teenie
Suzie School Skirt
Bella La Ball
Rhonda Ring
Flippa Flops
Kitty Flats
Judy Jumper
Ultra Rare
Kelsey Compact
Penelope Perfume
Trivia
Tutusweet appears to be a re-named version of Tutucute.
All the shoes come in pairs, whereas in the actual seasons they come single.
Prommy does not look like Prommy from Season Two, but rather Beverley Heels.
Penelope Perfume bears a slight resemblance to Gemma Bottle.
The rare McDonalds Shopkins have a unique finish while the rare Shopkins from seasons have normal finishes.
Heidi Handbag's variant is named Duffa.
Some of them have squares on the bottom of them, for the purpose of being put on a pencil.
These shopkins are much bigger than normal shopkins.
Gallery
Ad blocker interference detected!
Wikia is a free-to-use site that makes money from advertising. We have a modified experience for viewers using ad blockers

Wikia is not accessible if you've made further modifications. Remove the custom ad blocker rule(s) and the page will load as expected.