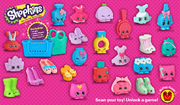 Starting in late December 2015,
Shopkins McDonald's toys
were released in McDonald's Happy Meals. They include one blue or pink shopping basket in the style of season three baskets, a turquoise shopping bag in the style of season three bags, and 2 shopkins - one in a blind bag and one visible. 
The Shopkins appear to mostly be one solid color, and are much larger than the typical Shopkin. Some of the Shopkins in here appear to belong in the Fashion Spree range or a previous season, but many of them are new characters.
The toys come with a collector's guide and are divided into teams like any ordinary Shopkins season.
Characters
Dresses
Purses
Beauty
Shoes
Rare
Ultra Rare
Trivia
Gallery
Ad blocker interference detected!
Wikia is a free-to-use site that makes money from advertising. We have a modified experience for viewers using ad blockers

Wikia is not accessible if you've made further modifications. Remove the custom ad blocker rule(s) and the page will load as expected.