Created by Paul Salomon, Shopkins are the adorable, collectible toys created by Australian company Moose Toys that this wiki is all about! They were first released in June 2014.
Official Product Description
"Girls will enter a big world of pint-sized fun with Shopkins™, the new line of super cute, super tiny, grocery-themed collectibles from Moose Toys! Inspired by items from each aisle in the grocery store and housed in adorable shopping bags, each little 'Shopkin' will bring non-stop shopping fun to girls this fall. There are more than 140 different characters to collect and trade, including Rare, Ultra Rare, Special and Limited Edition characters that feature special finishes and are grouped by different sections of the supermarket, from Sweet Treats to Frozen Food to Toiletries. Girls can complete their Shopkins experience with grocery store playsets that connect to create the ultimate Shopkins world! Available at mass retailers nationwide this August."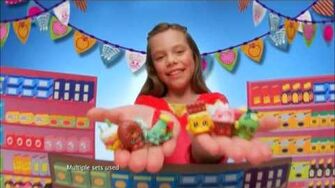 History
Shopkins was designed and developed by Moose Toys in Melbourne. Co-chief Paul Solomon credits his mother Jacqui Tobias, director of girls' products, for the idea of Shopkins. Moose Toys had success with their line of Trash Pack collectible figurines which were geared towards boys, but overall lacked a market for girls. Shopkins was produced initially as a similar product for girls—however, it appeals to both genders.
Development for the franchise started in 2013, and was based off of none other than "The Trash Pack". The earliest trademarks were filed on April 26, 2013 but is not exactly mentioned due to it being confidential information
History
In June 2014, Season One came out in major retailers. This first season of Shopkins contained over 150 characters to collect, all based off of grocery store items! The teams include Fruit & Veg, Bakery, Sweet Treats, and more!
Season Two of Shopkins was released in December 2014, and it featured new teams including Baby, Homewares, Cleaning & Laundry and Shoes.
Season Three was released in June 2015. The new teams, Stationery, International Food and Hats, were added to Season Three. Season Three also introduced two new ranges of Shopkins; Food Fair and Fashion Spree.
Season Four was released in December 2015. This season introduced Petkins which are Shopkins with faces that resemble animals. Other new categories include Party Time, Petshop, Garden, and Accessories.
Season Five was released in May 2016. New categories include Charms, Tech, Music and Sport. Also released in Season Five was the new range, Happy Places.
Season Six, or Shopkins: Chef Club, was released in September 2016. Instead of having specific teams, Shopkins were ingredients for various recipes, meaning they belonged to multiple ones at once depending on their type.
Season Seven, or Shopkins: Join The Party, was released on February 5, 2017, which includes party themed Shopkins. The special edition Shopkins for this season are the Topkins, which can be stacked on top of each other. Also, instead of coming in recipe books, they come in presents.
Trivia
Their static artwork depict them having various iris colors. However, their toys depict them with solid black pupils.
Footage from the franchise has been used to help promote "The Grossery Gang", another product by Moose Toys that shares a similar concept to Shopkins.
Ad blocker interference detected!
Wikia is a free-to-use site that makes money from advertising. We have a modified experience for viewers using ad blockers

Wikia is not accessible if you've made further modifications. Remove the custom ad blocker rule(s) and the page will load as expected.