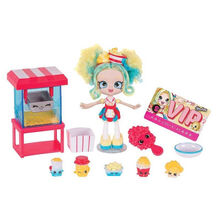 Popette's Popcorn Stop is a playset released in August 2016.
Description
Shopville's newest pop-up shop is here, Popette's "Popcorn Stop"! Butter up her friends with some some popcorn perfection! Her tasty treats are hard to beat, so come on over it's time to eat! It's a bowl lot of fun!
Contents
1 Shoppie
5 Exclusive Shopkins
Poppy Cooker Playset Including: 1 Mixing Bowl & 1 Popcorn Box
1 Brush
1 VIP Card
1 Doll Stand
Shopkins
The Shopkins included in this set are:
Gallery
Ad blocker interference detected!
Wikia is a free-to-use site that makes money from advertising. We have a modified experience for viewers using ad blockers

Wikia is not accessible if you've made further modifications. Remove the custom ad blocker rule(s) and the page will load as expected.