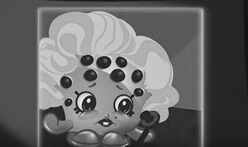 Kooky Monroe
is an actress in the Shopkins webisode series, appearing in the episode
Kooky Monroe and the Shopkin Shadow!
.
Appearance
Kooky Monroe bears a striking resemblance to Kooky Cookie. She is a chocolate chip cookie with one tooth and pink shoes. She has a beauty mark above the left side of her lip and has curly blonde hair. She is wearing red lipstick.
Trivia
Kooky Monroe is a parody of the model/actress Marilyn Monroe.
It is likely that Kooky Cookie is acting as Kooky Monroe, and Kooky Monroe is probably not a "real" Shopkin.
She is currently the only cartoon-exclusive Shopkin.
Gallery
Ad blocker interference detected!
Wikia is a free-to-use site that makes money from advertising. We have a modified experience for viewers using ad blockers

Wikia is not accessible if you've made further modifications. Remove the custom ad blocker rule(s) and the page will load as expected.