Donatina's Donut Delights
is a playset released in December 2015.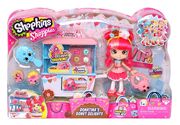 Contents
Working donut stand with wheels
VIP card can be used with the free app (Device and app not included)
Donatina doll
2 exclusive donut Shopkins
4 mini donut Shopkins
Blue donut brush
Pink donut handbag
Clear doll stand
Product Description
Shopkins fans will love adding this Shopkins Shoppies Donatina's Donut Delights Play Set to their Shopkins collection. You can tell this Shopkins Donatina doll loves donuts by the way she dresses. Her outfit, hairstyle and personality are all donut themed. Shopkins are super cute, fun, small characters that live in a big shopping world! There are over 100 different Shopkins brought to life per series as the cutest collectible characters that can be found inside adorable shopping bags!
Ad blocker interference detected!
Wikia is a free-to-use site that makes money from advertising. We have a modified experience for viewers using ad blockers

Wikia is not accessible if you've made further modifications. Remove the custom ad blocker rule(s) and the page will load as expected.